Podcast: Play in new window | Download
Subscribe: Apple Podcasts | Google Podcasts | Stitcher | Email | RSS | https://podcast.legalnursebusiness.com/subscribe-to-podcast/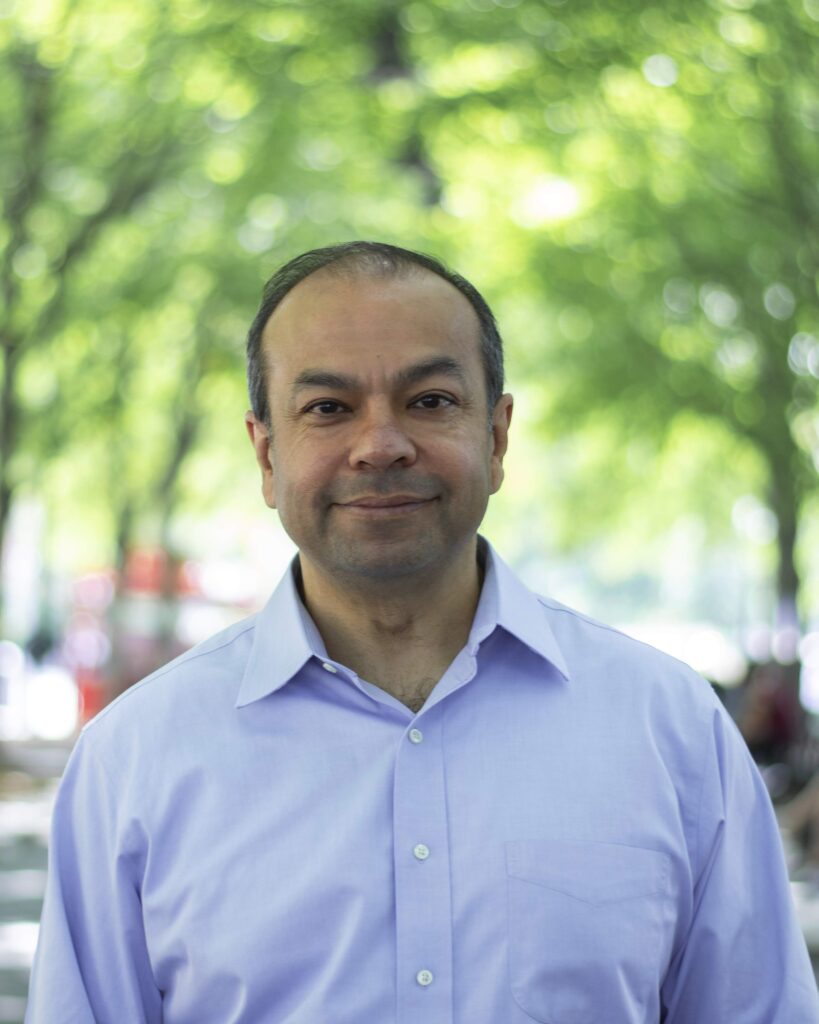 Rocky Lalvani, who calls himself "an entrepreneur with numbers," makes his living bridging the gap with financial tips, between accountants who speak their own language and entrepreneurs who don't speak numbers.
He and Pat Iyer, your podcast host, share invaluable advice about steps you can take immediately to make your business profitable.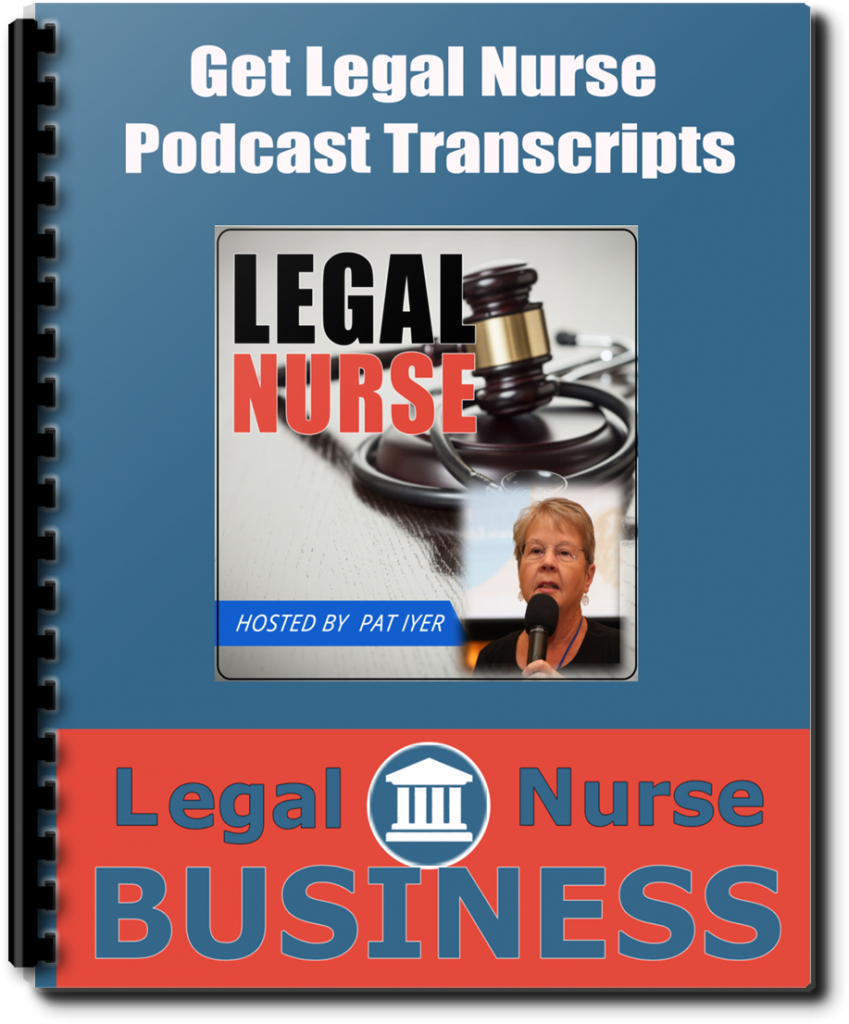 Click here to get the transcript for this podcast!
Get more Financial Tips and Tricks for LNCs with Rocky Lalvani
When you're speaking with a new attorney client, what key words indicate problems with payment?
How much of your initial retainer should be used up before you ask for a replenishment?
If you're dealing with an insurance company, which employees should you befriend?
Should you raise your rates in a climate of economic uncertainty?
How should you handle a situation in which the attorney says they can have the work done overseas for one-fourth the price?
and more financial tips from Rocky…..
Join Us For LNC Success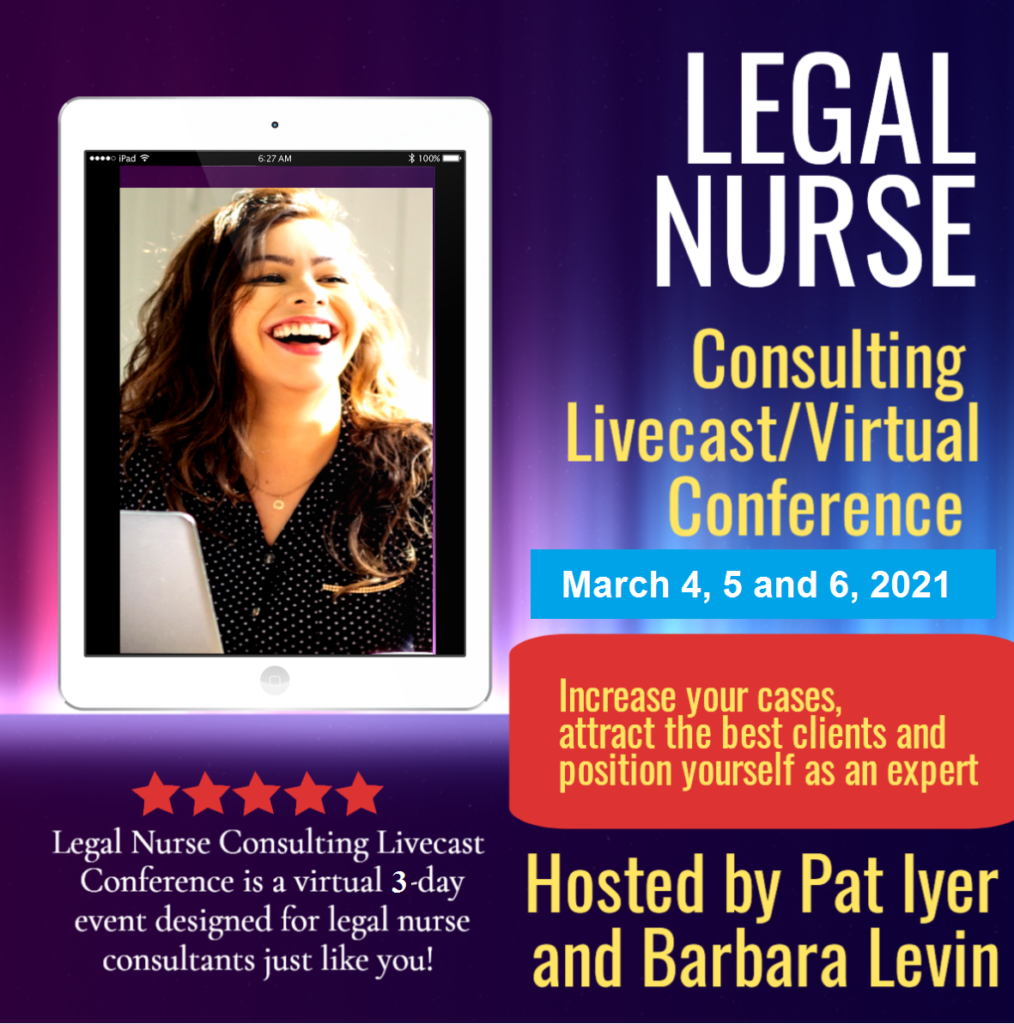 A Virtual Conference
March 4, 5 and 6, 2021 from 10:30 am to 6:00 pm Eastern
Pat and Barbara put together the first Legal Nurse Consulting Virtual Conference in July 2020.
They are back with an all new conference based on what attendees said they'd find more valuable. This new implementation and networking event is designed for LNCs at any stage in their career.
Build your expertise, attract higher-paying attorney clients, and take your business to the next level.
After the LNC Success Virtual Conference, you will leave with clarity, confidence, and an effective step-by-step action plan that you can immediately implement in your business.
Over 100 LNCs attended our first virtual conference in July 2020.
Get updated, inspired, and motivated by your experience. Feel connected to LNCs from across the country.
Barbara Levin and I put together a distinguished panel of LNCs, doctors, lawyers, and also business experts to share their knowledge to you in the comfort of your own home.
Who is Barbara Levin? Barbara is my colleague, friend, also an expert witness, orthopaedic nurse clinician, and much more.
No airfare, no hotel, no Uber or Lyft, also no germs and no masks!

Your Presenter
ocky Lalvani was shocked to learn most business owners don't look at their financial reports! Can you believe that? It has to do with our mindsets around money and also fear and shame. When he realized how much of a problem this was he knew this was his purpose to help business owners be profitable.
Rocky serves as Chief Profitability officer for business owners. He teaches them how to ensure they get paid and they make profit a priority! As a certified Profit First Professional he implements Mike Michalowicz's Profit First System. We change the accounting formula of Sales – Expenses = Profit to Sales – Profit = Expenses. This ensures Profit comes first! (PS. It's not about money at all costs, people come before money!)

Rocky started with nothing when his parents immigrated to the United States when he was two years old, and his parents were in their 40's. It was his parents' second time starting over in life as they moved here to experience the American dream. In spite of a lot of struggles and his mom passing away when Rocky was 7, he has been able to achieve financial and life success. Rocky loves to share his journey and inspire others to achieve their dream even faster.
Connect with Rocky at ProfitComesFirst.com