Podcast: Play in new window | Download
Subscribe: Apple Podcasts | Android | Email | Google Podcasts | Stitcher | RSS | https://podcast.legalnursebusiness.com/subscribe-to-podcast/
Would it come as a surprise to you if I said we're all salespeople? It's true. Closing legal nurse consulting sales requires being able to identify prospects you want to work with and then getting the case in your door.
Don't think of yourself as closing a sale when you get a case? Although you might think of it as getting retained to review a case, it is at heart a decision by the attorney to hire you. And that is a sale.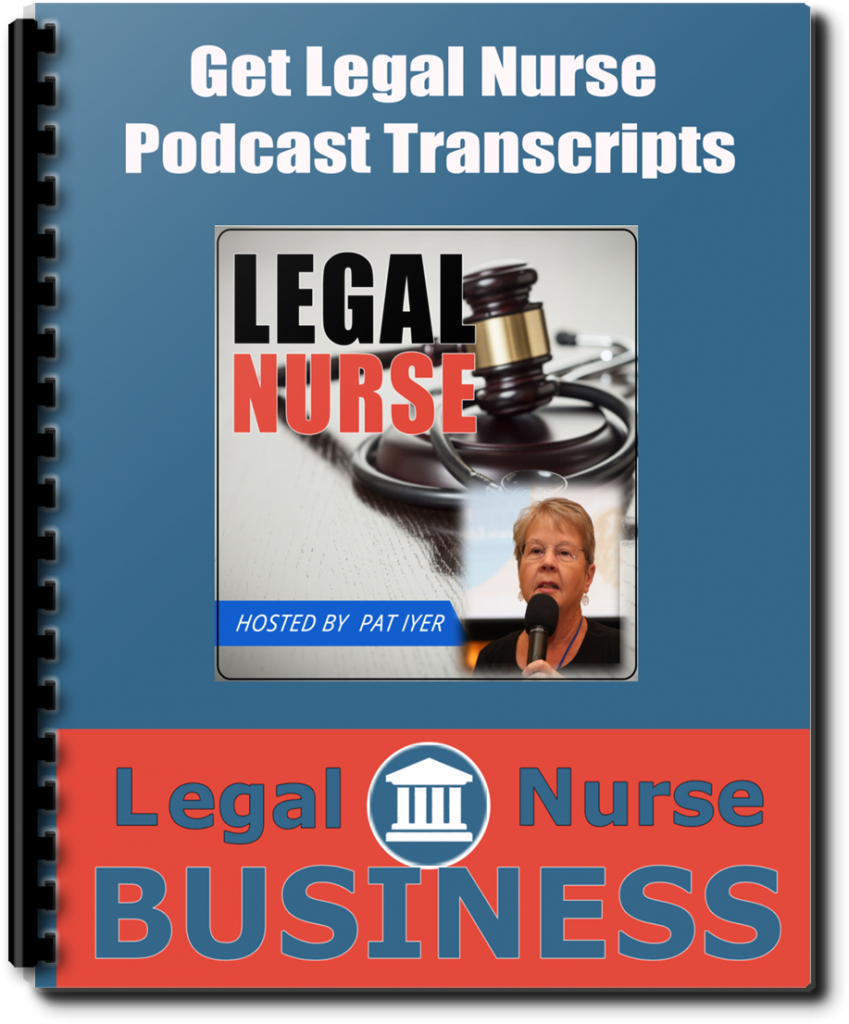 Click here to get the transcript for this podcast!
Listen in as Pat Iyer chats about these points
Reactions to Legal Nurse Consulting Sales: It Feels "Icky"
Fix Your Mindset
Don't Be Afraid of the Follow Up
Are emails effective?
Related Product: Introducing free podcast bundles!

I have an announcement. You may have heard me speak about the 5 pillars of legal nurse consulting. I believe these are essential for success. The 5 pillars are expertise, marketing, client relationships, business development, and also finance.
Would you like to cut to the chase and also listen to the most popular podcasts we've ever released? I've studied the reports I receive from the company that hosts this podcast and identified all of the most downloaded shows. We put together bundles of shows for each of the 5 pillars: expertise, marketing, client relationships, business development, and finance. To round it out, I added a 6th category: stories of successful legal nurse consultants.
These are ready for you today. In addition to being able to get the bundles of shows, you'll also be able to download a Mini Workbook so you can take notes, record your insights, and focus on the key points.
You may access these top shows on my website: podcast.legalnursebusiness.com. Go to podcast.legalnursebusiness.com, fill in the fast form and you'll be on your way to listening to the best of the best Legal Nurse Podcasts.

Your Presenter
Pat founded, grew and sold a successful legal nurse consulting business that had annual sales in the 7 figures. She is a well known, respected expert in the field of legal nurse consulting. She has written, edited, or coauthored over 800 chapters, books, case studies, online courses or articles about the topic of legal nurse consulting. Pat served on the board of directors of the American Association of Legal Nurse Consultants for 5 years including a year as president of the association.