Podcast: Play in new window | Download
Subscribe: Apple Podcasts | Google Podcasts | Stitcher | Email | RSS | https://podcast.legalnursebusiness.com/subscribe-to-podcast/
How can a nurse most smoothly make the transition from clinical work to working as an LNC? Abigail Rogers presents the unique perspective of someone who's currently engaged in that process.
She works as a neonatal nurse and is also getting her master's degree in nursing. Her academic advisor told her that her intensive care unit background would serve her well if she chose to go into legal nurse consulting. This possibility appealed to Abby, and she began thoroughly researching the field.
Abigail's research process could serve as a blueprint for those wondering how they can learn more about being an LNC. She explored AALNC and made direct contact with LNC in her area. People were very helpful, and she learned how diverse a field legal nurse consulting can be.
She also got in touch with the Small Business Association and got a mentor, who has helped her immensely with important issues like having a business plan, branding, a good business name, and much more. As a result, by the time Abby is ready to open her practice, she will have all the practical foundational pieces together.
In addition, Abigail found resourceful family members, one of whom made the vital point that what she will be marketing is her values. This represents a shift from "What I Do" to "Who I Am." Abby plans to incorporate this into her marketing copy—and more importantly, to her initial and further dealings with attorneys.
If you are considering or engaged in the transition to opening an LNC practice, you will find this podcast invaluable.
Join me in this episode of Legal Nurse Podcast to learn How to Begin the LNC journey – Abigail Rogers
How can getting to know about AALNC help someone get thorough information about being an LNC?
Why is it important to speak directly to practicing LNCs?
What practical steps can you take prior to formally setting up your practice?
How can the Small Business Association serve as a valuable resource?
What are you selling as an LNC?
---
Related Product:
Get Your 1st LNC Case
You're sitting in your home thinking,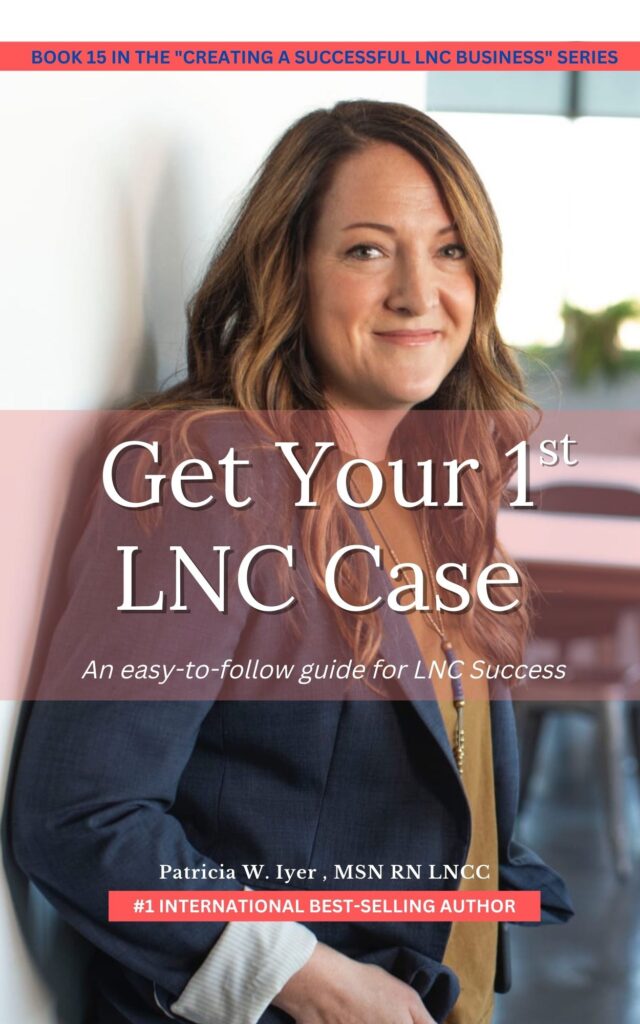 How do I get my first LNC case?
I took a program to become an LNC and now I am ready to start. How do I get involved in this specialty field of nursing?
I would love to be able to take off a day without asking permission from a boss.
What is it like to work with attorneys?
How do I get started?
How do I overcome the risks of starting my business?
This book helps you overcome your fears and get out of your own way.

---
Your Presenter of How to Begin the LNC journey – Abigail Rogers
Abigail (Abby) Rogers is a certified neonatal registered nurse and is currently pursuing her master's degree in nursing leadership and legal nurse consulting. She has spent nearly a decade in a level IV NICU, working with the tiniest of patients. Through her patients and families, she has witnessed both overwhelming strength and heartbreak. She feels privileged to be a part of both. She is currently in the planning stages of building an independent legal nurse consultant practice and has spent a lot of her time doing research about what goes into being a successful LNC, and networking with other LNC's and attorneys.
Connect with Abigail on LinkedIn