Podcast: Play in new window | Download
Subscribe: Apple Podcasts | Google Podcasts | Stitcher | Email | RSS | https://podcast.legalnursebusiness.com/subscribe-to-podcast/
In 2019, over 400,000 adult women reported being sexually assaulted. Although this figure is believed to represent only one third of actual rapes, and though it doesn't include children under the age of 12, it is a huge number.
LNCs can play vital roles in those cases that are litigated. If you are drawn to this very important area of work, you need to understand the medical processes of information gathering involved in sexual assault cases. Teresa Devitt Lynch, who is board-certified through the international Association of Forensic Nurses and has the title of Sexual Assault Nurse Examiner (SANE), takes us into this world.
She emphasizes that this is an area where LNCs must be even more meticulous than usual. Because so many medical departments may be involved in analyzing the data of a sexual account case, contradictions may appear in the reports. It's also vital to follow the chain of evidence to ensure that none of the evidence was contaminated.
In addition, issues of who was responsible for the assault and whether the sex was consensual or not musts be given detailed consideration.
Because this is such an important area for LNCs to explore professionally, Pat and Teresa will be giving a course in early April on this subject. You'll find information about it in this podcast.
Join me in this episode of Legal Nurse Podcast to learn about Sexual Assault Cases
What documents does an LNC need to evaluate sexual assault cases?
What stages are involved in information gathering in a sexual assault case?
Why is it important for a forensically trained nurse to be involved in the examination and evaluation of a sexual assault victim?
How are pediatric sexual assault cases different from those involving adults?
Where should an LNC look for discrepancies in the various reports, including police reports?
---
Sexual Assault Cases: How the LNC Shines is a 1-day event designed for legal nurse consultants just like you!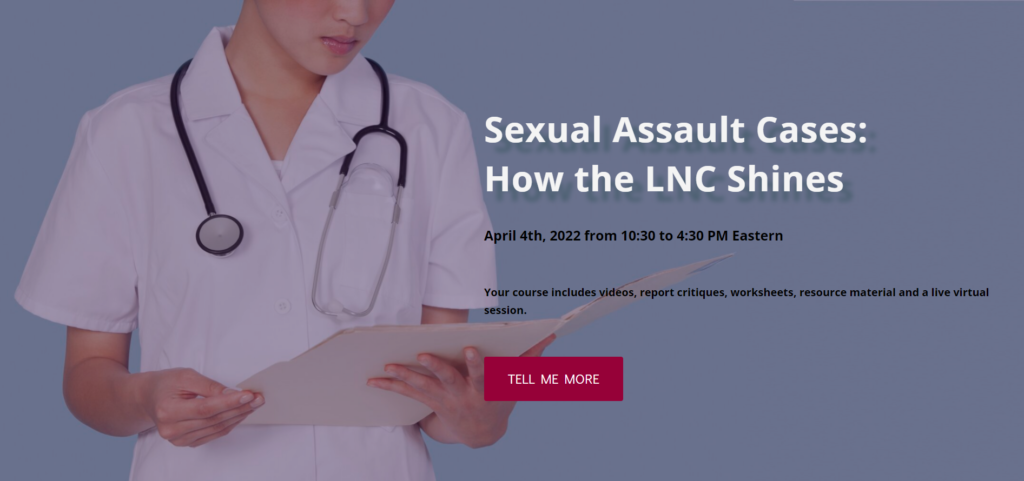 You'll receive videos and medical records from a variety of sexual assault cases. With feedback from the instructors, you'll gain skill in analyzing medical records and details.
Our instructors will give your feedback on how you did, so that you can use your report as a sample and gain confidence in your abilities.
Your course includes videos, report critiques, worksheets, resource material, a live virtual session April 4th, 2022 from 10:30 to 4:30 PM.
---
Your Presenter
Teresa Devitt-Lynch MSN RN AFN-BC SANE-A is board certified through the International Association of Forensic Nursing as an Advanced Forensic Nurse and an Adult/Adolescent Sexual Assault Nurse Examiner. She served in the Navy as a Lead Forensic Nurse Examiner and Assistant Forensic Health Program Manager in Portsmouth. In Italy, she served at the Naval Hospital as the Sexual Assault Forensic Examination Program Manager.
Connect with Teresa at LinkedIn