Podcast: Play in new window | Download
Subscribe: Apple Podcasts | Google Podcasts | Stitcher | Email | RSS | https://podcast.legalnursebusiness.com/subscribe-to-podcast/

An increasingly fragmented medical system has placed people with psychiatric issues in particular jeopardy. Both the clinical or psychiatric nurse and LNCs need to be keenly aware of cases that may involve misdiagnosis, delayed diagnosis, and nondiagnosis.
Lynda Waggoner, a nurse practitioner with both medical and psychiatric experience, describes some of the key medical and psychiatric conditions that can lead to diagnostic errors. Diabetic and thyroid crises can masquerade as psychiatric conditions. Many psychiatric patients may have serious heart conditions that may lead to a diagnosis of acute anxiety.
In these and other conditions, lack of correct treatment endangers the patient and may lead to legal consequences. The LNC needs to look for such errors in any malpractice case involving a psychiatric patient. She or he also has to look for signs that a patient may have shown signs of considering suicide.
Lynda places these issues in the perspective of an overall collapse of communication between medical deterioration of medical and psychiatric care in the U.S. She draws particular attention to the role of mental illness in the national epidemic of mass shootings.
This podcast has vital information for any LNC who may become involved in litigation involving a person with psychiatric illness. You will also find that it has enlightening insights about the state of medical and psychiatric practice in the U.S. Enjoy this episode of Legal Nurse Podcast.
Watch this episode of Legal Nurse Podcast to learn about Is it a Psychiatric or Medical Condition?
How can confusion between medical and psychiatric symptoms lead to liability issues?
What is a condition for which all psychiatric patients must be assessed?
How does a plaintiff's psychiatric affect the perceptions of jurors?
Is the care given people with psychiatric illnesses better or worse than it was fifty years ago?
Why should addressing the needs of people with psychiatric illnesses be a national priority in the U.S.?
How to Analyze Medical Records: A Primer for Legal Nurse Consultants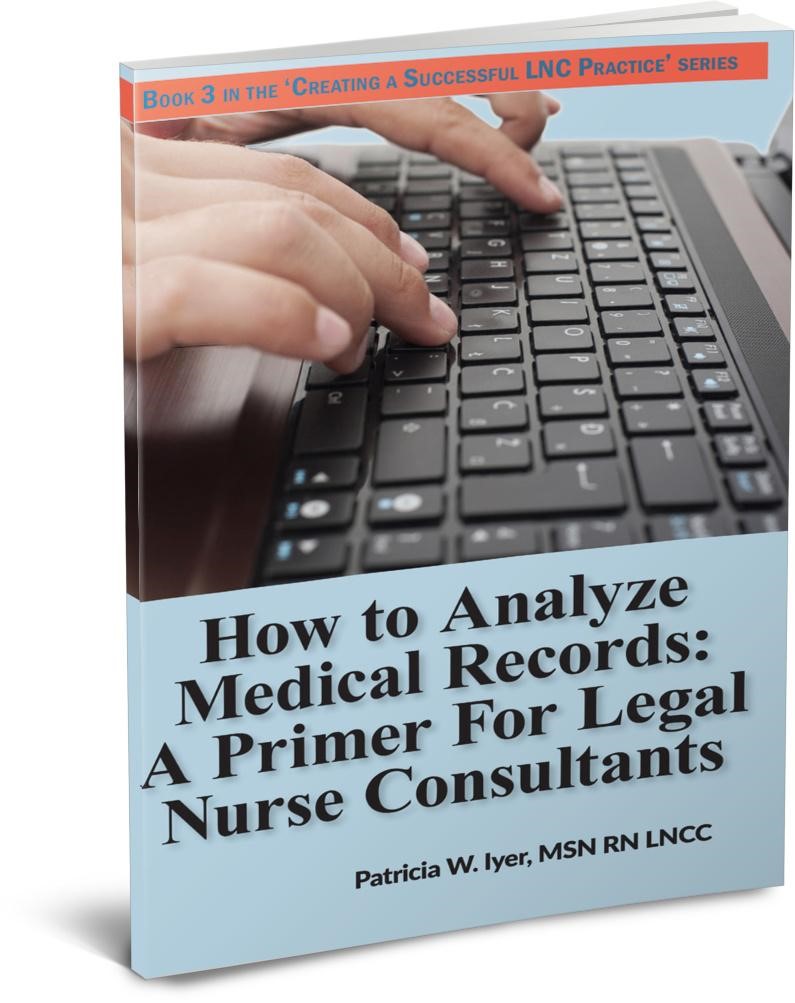 This book, "How to Analyze Medical Records: A Primer for Legal Nurse Consultants" the 3rd in the series Creating a Successful LNC Practice, covers the pros and cons of electronic medical records, including how they introduce risk into the documentation of patient care.
Use it to discover tips and techniques for organizing paper and electronic medical records, which are the backbone of our business.
You will gain an understanding of how to screen a medical malpractice case for merit and discover clues for detecting tampering with medical records.
Two final chapters focus on how to polish your work product to create your strongest professional appearance. You will gain critical insights on how to strengthen your ability to analyze medical records – to gain more clients and earn more money.

Your Presenter
Lynda Waggoner is a nurse practitioner and legal nurse consultant. She is board-certified in both adult medical-surgical and psychiatric mental health nursing and has been a nurse for over 38 years. Lynda has practiced in a variety of health care settings, including urology, medical-surgical, medical psychiatry, correctional and community psychiatry. Her blended medical-surgical and mental health experience gives her insight into both the physical and behavioral aspects of injury and illness. Lynda has legal nurse consulting experience working in products liability and disability evaluation.