Podcast: Play in new window | Download
Subscribe: Apple Podcasts | Google Podcasts | Stitcher | Email | RSS | https://podcast.legalnursebusiness.com/subscribe-to-podcast/
Every business must adapt to shifting external circumstances of the LNC as CEO. Sheri Berke, a reinvention coach and money strategist, gives clear guidelines on how with a vision, a mission statement, frequent checkups on goal achievements, and time out to take a breath, you can affect the success of your LNC business from the inside out. When we're entrepreneurs, we are also the CEO of our business. And one of the responsibilities is to have an intention to define that vision and that mission.
A vision acts like a destination when you're leaving your house. When you walk out the door, you know where you are going, and you can very easily plot a way to get there or use a GPS. And a vision operates much like that for our personal lives and for our businesses. When we have a clear picture of what we want to be doing, what we want to have in our life, and what's meaningful for us, we have a much better opportunity of making good choices and making great plans to make that vision real.
Legal nurse consultants work with very serious cases with people who can be catastrophically injured for the rest of their lives. And there's a lot of sad stories involved in the lawsuits when people get injured. We're intense, we do a lot of concentrated work, where every word we say and every word we write can have significance. So, this show will point out that we need that to season some of the more intense work that we do.
Enjoy this episode of Legal Nurse Podcast to get insights to these questions about the LNC as CEO
Why is it important to have a vision for your business?
What is the value of entrepreneurs seeing themselves as the CEOs of their businesses?
How does your mission statement communicate who you are to the world?
Why do you need to frequently track your goals and make sure they align with your vision?
How can meditation or focused breathing give you the mental clarity to solve problems?
How to Manage Your LNC Business and Clients: Top Tips for Success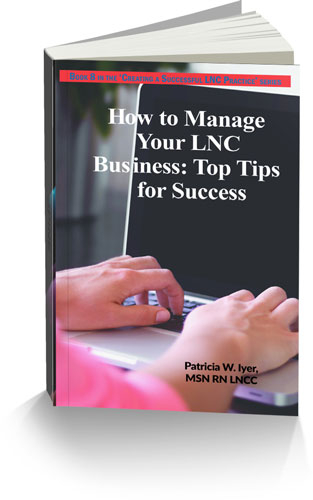 You've gotten your legal nurse consulting business started, you have clients, and you want to sustain your success. How can you manage that business in the best way? There are dozens of traps that can trip you if you aren't aware of them and prepared to tackle them.
Pat knows – she founded and managed a multi-million dollar legal nurse consulting business – and saw plenty of opportunities for trouble.
Let's face it – working with trial attorneys is a challenge. They are driven people who want to do their best for their client. There is a lot at stake in litigation, and you want to have strong relationships with them.
In this book, you'll learn how to deepen your connections with your clients through your communications. When conflict or the need to negotiate arises, the tips in this book will give you the confidence needed to tackle some of the world's best negotiators. Being able to successfully master negotiation, business communication and conflict are essential.
Discover how to win over and retain the clients you want and recognize those who are too much trouble. Pat shows you how. Enjoy this episode of Legal Nurse Podcast to get insights to these questions about the LNC as CEO
This is the book to use to build a stable foundation for your business.

Your Presenter
Sheri Berke, a consultant and advisor to small business owners, helps them with their business plan and strategy so they can create their dream.
Connect with Sheri at https://thereinventionplaybook.com/
Instagram: https://www.instagram.com/sheri_berke/
LinkedIn: https://www.linkedin.com/in/sheriberke/
Facebook Business Page – The Reinvention Playbook™ : https://www.facebook.com/sheriscreativeworks
Private Facebook Group – Money Talks with Sheri:
https://www.facebook.com/groups/1726571224320871/
Pinterest:https://www.pinterest.com/Begoniabeads/
YouTube: https://www.youtube.com/channel/UCy5Zxto1tw4c-Xah8Y0Z8yw
Vimeo: https://vimeo.com/user93147246