Podcast: Play in new window | Download
Subscribe: Apple Podcasts | Google Podcasts | Stitcher | Email | RSS | https://podcast.legalnursebusiness.com/subscribe-to-podcast/
The rapid growth of the home health care industry provides opportunities for LNCs experienced in this field to act as consultants. Janice McIntosh, a nurse for 43 years with a wide range of experience, including home health care and home healthcare malpractice, has worked as an LNC since 2009.
She shares the differences between home and hospital care that challenge the LNC. This podcast is a must for anyone considering entering this expanding area of legal work.
Learn about Home Healthcare Malpractice
How do the regulations governing home health care give greater protection to the patient?
Why is it dangerous to have a lack of continuity of care for a home health care patient?
Why are people sometimes reluctant to sue home health care workers? • Why are home health care lawsuits often legally complicated?
Why, in preparing evidence for a home health care suit, can it be difficult to reconstruct the course of events?
Join Us For LNC Success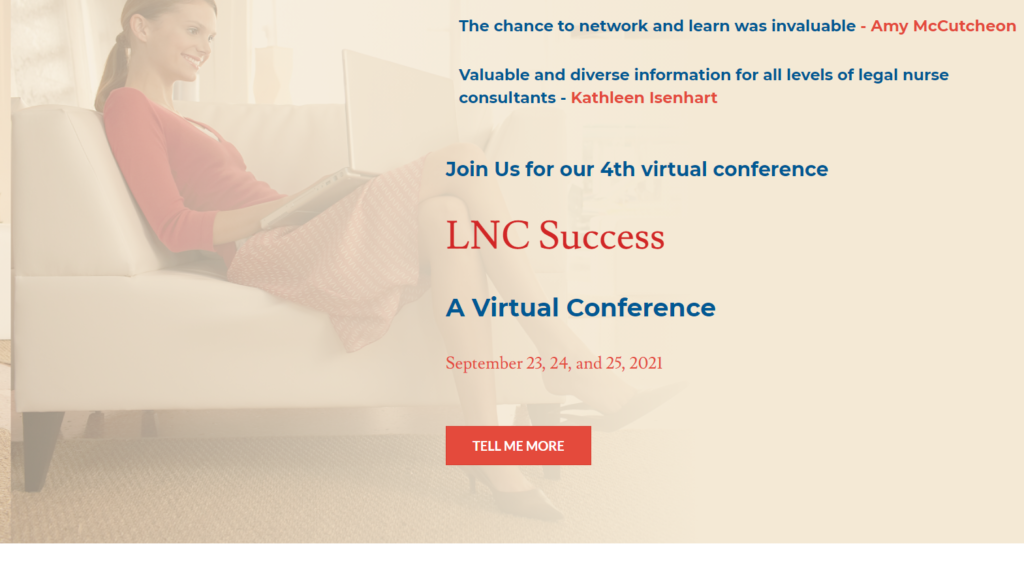 A Virtual Conference
September 23, 24, and 25, 2021
Pat and Barbara put together the first Legal Nurse Consulting Virtual Conference in July 2020.
They are back with an all new conference based on what attendees said they'd find more valuable. This new implementation and networking event is designed for LNCs at any stage in their career.
Build your expertise, attract higher-paying attorney clients, and take your business to the next level.
After the LNC Success Virtual Conference, you will leave with clarity, confidence, and an effective step-by-step action plan that you can immediately implement in your business.
Over 100 LNCs attended our first virtual conference in July 2020.
Get updated, inspired, and motivated by your experience. Feel connected to LNCs from across the country.
Barbara Levin and I put together a distinguished panel of LNCs, doctors, lawyers, and also business experts to share their knowledge to you in the comfort of your own home.
Who is Barbara Levin? Barbara is my colleague, friend, also an expert witness, orthopaedic nurse clinician, and much more.
No airfare, no hotel, no Uber or Lyft, also no germs and no masks!

Your Presenter
Janice A. McIntosh, the head of McIntosh & Associates Legal Nurse Consultants, LLC, understands this and holds her company to the highest standards concerning quality legal nurse consultation. She knows that many cases succeed—or fail—based on whether or not the medical/healthcare aspect of the matter is approached correctly.
Connect with Janice at https://mcintoshlegalnurses.com/