Podcast: Play in new window | Download
Subscribe: Apple Podcasts | Google Podcasts | Stitcher | Email | RSS | https://podcast.legalnursebusiness.com/subscribe-to-podcast/
In our previous podcast, Curtis Johnson and I talked about how personalities affect the practice of law – and legal nurse consulting. After almost 30 years of working with attorneys, I've seen that their personalities tend to be one of two types.
As Curtis mentioned, there can be a natural style and an adaptive style. We have a blend of personalities, but one is predominate.
In this podcast I concentrate on the two types of personalities I've seen most often in attorneys: decisive and conscientious.
Listen in as Pat Iyer chats about these points
What is a "D" personality, based on the DISC style
Why people who are slow to act and more analytical are the "C" style
Tips on dealing with trial attorneys who are C personalities
The top 4 tips on how to build strong relationships with your decisive and conscientious clients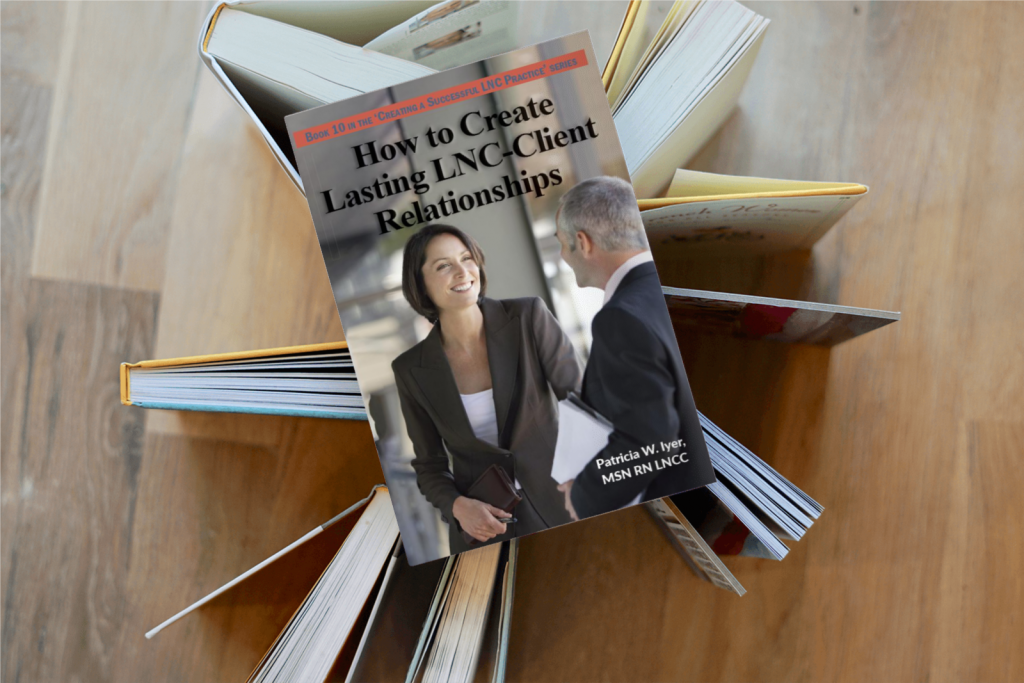 You can have an aggressive marketing program to bring in new clients, but if you cannot retain them, you'll be endlessly spinning your wheels. Client retention is founded on understanding what attorneys want, how they are wired, and how you can keep them returning with more cases.
When I ran my independent LNC business, about 80% of the clients were repeat clients. Some had worked with me for more than 20 years. I share my strategies of how I created such successful LNC-attorney relationships in my book, called, How to Create Lasting LNC-Client Relationships.
Get great insights about attorney personalities that will help you maintain strong relationships with your clients by ordering your copy of How to Create Lasting LNC-Client Relationships
.

Your Presenter
Pat Iyer has been a legal nurse consultant since 1987. She also built a successful LNC business that was filled with loyal attorney clients who returned over and over with cases.