Podcast: Play in new window | Download
Subscribe: Apple Podcasts | Google Podcasts | Stitcher | Email | RSS | https://podcast.legalnursebusiness.com/subscribe-to-podcast/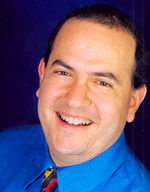 David Newman focuses on helping people who are looking for more leads and more prospects who are eager to become clients. He also has lots of ideas on super-charging your marketing to make sales happen.
Welcome to Iyer's Insights. Last week I shared the first part of an interview I did with David Newman. He is a marketing genius and author of Do it Marketing. In this show, part 2, David answers hard hitting questions from legal nurse consultants about how they can get clients. If you missed the first part, look for LNP 249. Listen in to the show as I get David to share his wisdom.
Listen in as Pat Iyer and David Newman chat about these points
If you don't have clients, what are some of the strategies that can be used to try to effectively get your foot in the door?
What to do when nobody is signing up for your newsletter
How valuable, rich, specific, high-value content is the key to getting that second conversion
How do you get past the barrier of mistrust that a person might feel
Tips on how to determine how much work is out there
Get 47 Ways to Get the Attorney to Say Yes to Your Services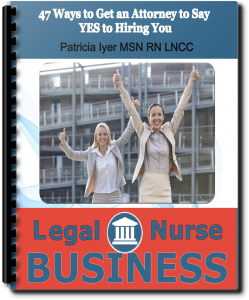 I want to share with you a free resource that I know will help you when you are talking with an attorney.
Do you want to get more cases from attorneys?
Would you like to know the specific words to say to get the attorney to hire you?
Would you like to find out exactly what to do to bring in the case?
Do you want to know how to confidently end that conversation so that the attorney gets the check and case in the mail to you?
Do you know how to handle the attorney's objections or questions?
My new free report is called "47 Ways to Get the Attorney to Say Yes to Your Services." Request this digital report at http://LNC.tips/47ways.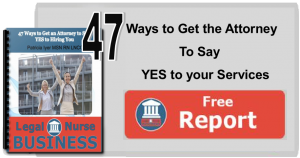 Your Presenter
David Newman has presented over 600 programs and counts 44 of the Fortune 500 among his clients and audiences. He's located in a suburb of Philadelphia and has been active in the National Speakers Association for several years, along with a 10-year career in corporate consulting working with speakers, consultants, and independent professionals to maximize their impact, influence, and income.
He's also the author of the Amazon number-one bestseller DO IT Marketing: 77 Instant Action Ideas to Boost Sales, Maximize Profits, and Crush Your Competition. He's been quoted widely in the New York Times, Investor's Business Daily, and Selling Power. He blogs for Salesforce and Vistage, a group of CEOs who get together in small groups, bring in speakers, do brainstorming, and share ideas with each other.
When he's not working or speaking, and he's not drinking way too much coffee, he's playing with his Atari video games. He hangs out with his black Labrador retriever.