Podcast: Play in new window | Download
Subscribe: Apple Podcasts | Google Podcasts | Stitcher | Email | RSS | https://podcast.legalnursebusiness.com/subscribe-to-podcast/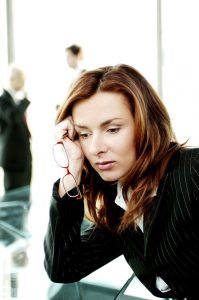 We all do it. No matter how successful you are, at one time or another you'll fall into the legal nurse consulting self-sabotage trap, and the price of admission is high.
The end result? Frustration. Burnout. Resentment (of your clients or your business). And yes, even more self-sabotaging behaviors. This downward spiral can quickly turn devastating, but stopping it is easy when you learn to recognize the symptoms.
Listen in as Pat Iyer chats about these points
How missed opportunities can often be blamed on simple procrastination
Why negative self-talk can destroy your financial future
How to combat negative self talk
The why behind what you do: are you driven by passion or by finances?
Related Product: Is your mindset crippling you?"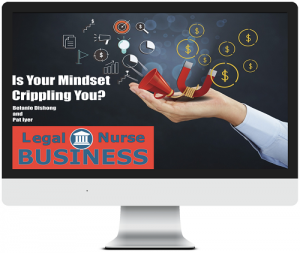 Ask yourself, "Is your mindset crippling you?" That may sound like an extreme question. Often, we do not realize how our thoughts and perspectives are holding us back from personal or business success.
Learn how to shift your mindset so that you become a magnet and attract people who want to be around you and do business with you! My colleague Belanie Dishong presented a one-hour online training called, "Is Your Mindset Crippling You? Mastering Your Mindset." In this one-hour training, you will discover
Why you can use your magnetism to attract the best for your business
How to release the crippling thoughts that prevent your success
Learn to create and enjoy the journey of life with a powerful mindset
Belanie Dishong is the Founder and CEO of Live at Choice and an author, keynote speaker, course leader, personal coach and radio talk show host. In 1993, Belanie introduced a proven process that leads participants to critical self-discovery and helps them transform their beliefs. The Beyond Circumstances Workshop is the foundation for all Live at Choice programs. "Things weren't always easy for me," says Belanie. "I came through some hard life challenges, defeats, and tragedies before I could see what was necessary to change my own life and live as my passion and my purpose."
Belanie's programs have successfully transformed the lives of her audiences.
Get her training at http://LNC.tips/masteryourmindset.

Your Presenter
Pat founded, grew and sold a successful legal nurse consulting business that had annual sales in the 7 figures. Ask questions and get guidance from Pat, an experienced LNC coach who built a large business.