Podcast: Play in new window | Download
Subscribe: Apple Podcasts | Google Podcasts | Stitcher | Email | RSS | https://podcast.legalnursebusiness.com/subscribe-to-podcast/
Have you been bullied as a kid, an adult, a nurse? Bullying stories cut across all ages, occupations and countries.
Pat Iyer's bully was a neurosurgeon who had temper tantrums in the OR (he threw instruments at nurses) and expected the head nurse to carry his charts and write down verbal orders. He was 5'1" and had a complex about being small. If anyone called him Italian, he corrected the person and said he was Sicilian.
Listen in as Pat Iyer chats about these points
How Pat had to justify her nursing care by creating a chronology
Why bullying is not confined to the United States and what makes bullying a global issue
How to recognize the tactics of a bully–before you yield ground in a negotiation
How bullying can include silence and social ostracism
The impact on the person who is bullied
Related Product Negotiating with a Bully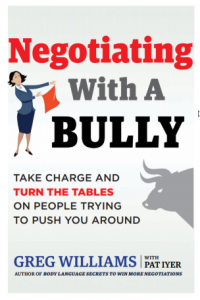 Everyone has felt bullied at some point in their lives, whether by a family member, childhood acquaintance, colleague, boss, or client. You know you have been bullied when you feel pressured, demeaned, and angered. When you walked away from a negotiation feeling like you lost ground. You gave into demands and agreed to something that was not in your best interests. And you resented the way you felt.
Negotiating with a Bully will teach you how to skillfully deal with bullies in different forms and environments. You'll explore the mindset of a bully and understand the motivations and behavior so that you can gain an advantage over him or her.
Negotiating with a Bully will give you the answers you need to become a more effective negotiator when you are confronted by a bully. You will learn how to quickly and easily:
Recognize the tactics of a bully–before you yield ground in a negotiation.
Employ an arsenal of negotiation strategies, including some you may have never considered using before.
Plan a negotiation with a bully so that you feel prepared to tackle the situation.
Interpret the body language of the bully–and his or her target–to better assess his or her intentions.
You'll find this book at this link: http://LNC.tips/bullybook.

Your Presenter
Pat founded, grew and sold a successful legal nurse consulting business that had annual sales in the 7 figures. She dealt with attorneys who were bullies.
Her motivation for becoming an LNC was to use her writing skills. Pat is also a well known, respected expert in the field of legal nurse consulting. She has written, edited, or coauthored over 800 chapters, books, case studies and also online courses or articles about the topic of legal nurse consulting. Pat served on the board of directors of the American Association of Legal Nurse Consultants for 5 years also including a year as president of the association.
She provides coaching for a select group of LNC business owners ready to develop their successful businesses. Go to LNC Academy for details.