Podcast: Play in new window | Download
Subscribe: Apple Podcasts | Google Podcasts | Stitcher | Email | RSS | https://podcast.legalnursebusiness.com/subscribe-to-podcast/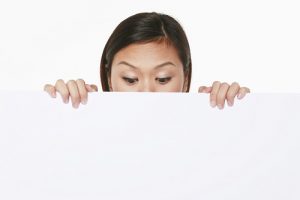 You might think that fear is the legal nurse consultant's enemy. LNC fears demoralize us, right? They stop us in our tracks. Not so. How should you be dealing with LNC fears?
Even if we're in situations that lack fulfillment or the flexible lifestyle we want from our LNC businesses, it is human nature to want to maintain the status quo by staying where we are. Our tendency is to prefer the known over the unknown.
Listen in as Pat Iyer chats about these points
Why LNC fears are a natural part of the process of change
A four-step method for dealing with LNC fears
Why fear can keep you miserable
How I let my fear and stress keep me stuck in an awful situation
6 surefire tips to overcome fear and negativity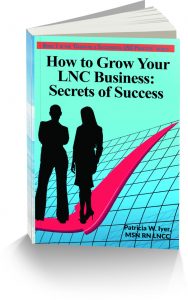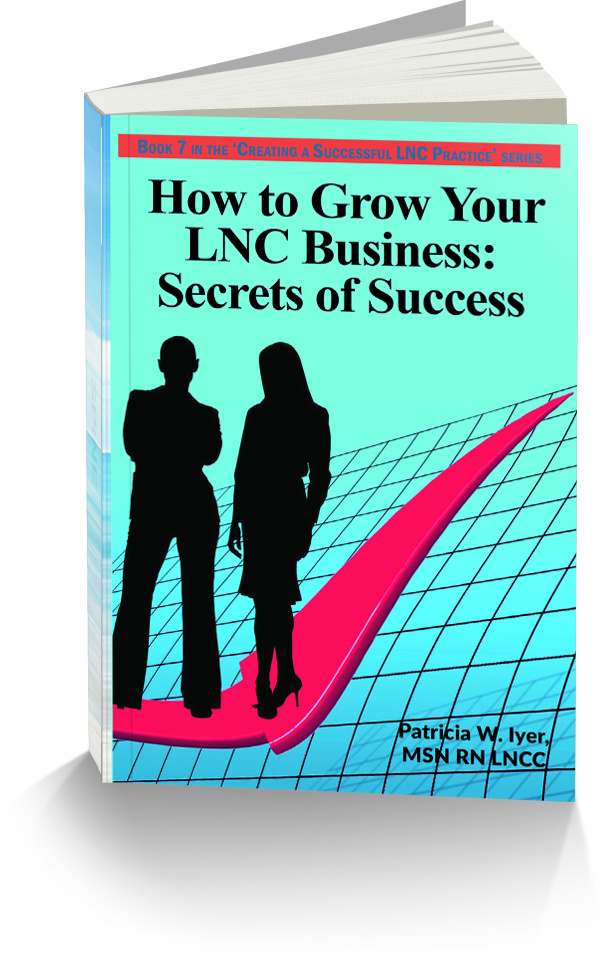 How to Grow Your LNC Business: Secrets of Success is one of my newest books.
Your mindset matters. The beginning of Pat's book probes how your attitude affects your legal nurse consulting success, and how you can make it your friend. 
The book goes deeper into how to build your business. One of the best ways to demonstrate your expertise is to ace a presentation to attorneys – at a conference or at their law firm. Four chapters go into depth on techniques to master public speaking.
You'll be inspired by the stories of how 5 experienced legal nurse consultants started and grew their businesses.
Section 1 asks the provocative question, "Are you your friend or enemy?" Mindset matters for success. Get inspired by the techniques for tackling adversity.
Section 2 helps you take advantage of one of the best ways to grow your business – to teach attorneys. Making presentations to attorneys is an excellent way to demonstrate your expertise and prove your value. Four powerful chapters give you the specifics on preparing for and delivering a polished professional presentation.
Section 3 has pure inspiration. Five experienced legal nurse consultants share their stories of how they got started and grew their businesses. They reveal their triumphs and challenges.
Get your copy at http://LNC.tips/Creatingseries.

Your Presenter
Pat founded, grew and sold a successful legal nurse consulting business that had annual sales in the 7 figures. Her motivation for becoming an LNC was to use her writing skills. She is also a well known, respected expert in the field of legal nurse consulting. She has written, edited, or coauthored over 800 chapters, books, case studies and also online courses or articles about the topic of legal nurse consulting. Pat served on the board of directors of the American Association of Legal Nurse Consultants for 5 years also including a year as president of the association.
She provides coaching for a select group of LNC business owners ready to develop their successful businesses. Go to LNC Academy for details.