Podcast: Play in new window | Download
Subscribe: Apple Podcasts | Google Podcasts | Stitcher | Email | RSS | https://podcast.legalnursebusiness.com/subscribe-to-podcast/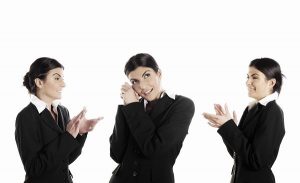 Here are 8 LNC business tips for starting and growing a Legal Nurse Consulting business. Continuous improvement is required if we are going to evolve in our field and improve our work product. Be open to adapting, taking suggestions, and never stop learning.
In LNP 198, Dr. Mitchell Cohn described how he started a medical legal consulting business. A lot of new legal nurse consultants ask me how to get started in the field, and LNCs with some experience ask me how to get more work.
Listen in as I (Pat Iyer) chats about these points
How to network to get more cases
Why you should take subcontracting jobs
Ways to be diversified
Get people to help you that are good at what you are not
8 great tips to help your business grow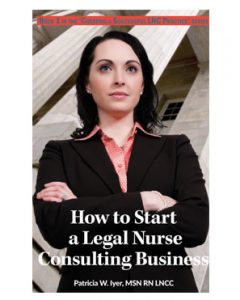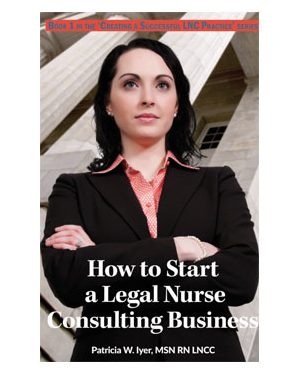 This book is for you if you are in the early stages of your business or want to move to a higher level of success. You will gain the principles for building a strong LNC business.
I will show you how to set SMART goals to which you can hold yourself accountable and how to track and measure your results.
Get concrete information about having a sound operating plan and mastery over your finances. This book shares tips on how to organize your finances, track income and expenses using calendars, budgets, logs and accounting software.
This book is geared to the legal nurse consultant who is searching for tips to jumpstart a consulting business.
The principles and tips in this book will help you gainsuccess in starting or growing your legal nurse consulting practice.
Order the book at this link: http://LNC.tips/creatingseries

Your Presenter
Pat founded, grew and sold a successful legal nurse consulting business that had annual sales in the 7 figures. She is a well known, respected expert in the field of legal nurse consulting. She has written, edited, or coauthored over 800 chapters, books, case studies, online courses or articles about the topic of legal nurse consulting. Pat served on the board of directors of the American Association of Legal Nurse Consultants for 5 years including a year as president of the association.
She provides coaching for a select group of LNC business owners ready to develop their successful businesses. Go to LNC Academy for details.