Podcast: Play in new window | Download
Subscribe: Apple Podcasts | Google Podcasts | Stitcher | Email | RSS | https://podcast.legalnursebusiness.com/subscribe-to-podcast/
Victoria Powell is the founder and president of V.P. Medical Consulting which offers medical case management services, life care plans and a variety of other services. We're going to be talking today about how Victoria developed her business and some of the aspects that she has encountered in running a business.
Listen in as Pat Iyer and Victoria Powell chat about these points.
How Victoria got started in life care planning
How she started marketing herself in a completely unique way
The unique factor Victoria considers when she hires employees
Her stories about dealing with her most appreciative attorney client
Her secrets to learning how to delegate and share the workload
How to Manage Your LNC Business: Top Tips for Success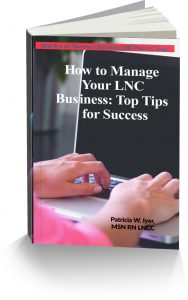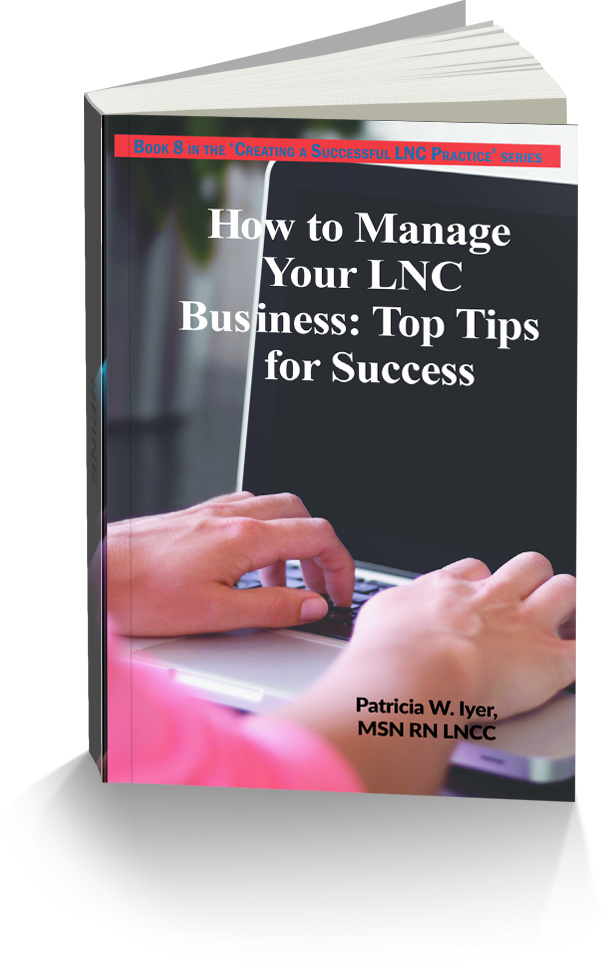 How to Manage Your LNC Business: Top Tips for Success is organized into 2 sections.
Section One focuses on the business processes that allow you to profitably manage your business. You will learn how to map out your business and pinpoint the essential factors. This section includes pointers for financial management, as well as how to accomplish your goals. You will discover to get more done through controlling distractions and effectively outsourcing and hiring.
Section Two includes tips on the most important relationship in your business – the one you have with your clients. You'll learn how to deepen your connections with your clients through your communications. When conflict or the need to negotiate arises, the tips in this section will give you the confidence needed to tackle some of the world's best negotiators. Lastly, you'll see how an attorney views the skills of an LNC.
This series is designed to give you the essential knowledge you need to grow your business. Order this book at http://LNC.tips/creatingseries

Your Presenter
Victoria Powell, RN, CCM, LNCC, CNLCP, CLCP MSCC, CBIS, CEASII is a registered nurse with more than 23 years of professional nursing experience and has been providing nursing education and consulting services for more than 17 years. Powell founded Remington Publishing which produces high quality books, tools and resources for health care and medical-legal professionals. In addition to works produced via Remington Publishing, Ms. Powell has been published in numerous professional journals, has authored and contributed to text books in the field.
Ms. Powell is also the founder and President of VP Medical Consulting offering medical case management services for catastrophically injured individuals and provides Life Care Plans for both plaintiff and defense with an emphasis on amputation and brain injuries. She has taken care of children with amputations as young as 18 months, as well as adults with bilateral and quadrilateral limb loss.