Podcast: Play in new window | Download
Subscribe: Apple Podcasts | Android | Email | Google Podcasts | Stitcher | RSS | https://podcast.legalnursebusiness.com/subscribe-to-podcast/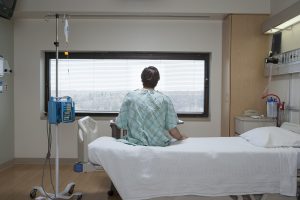 This is a story of a fascinating nursing home case.
This case reported in March 2018 struck me for several reasons. It involved a sixty-one-year-old man who was a long-term resident of a nursing home because he had right-sided paralysis due to a stroke. His left leg was also amputated. On February 4, 2014, he became sweaty, nauseated and had severe abdominal pain and vomiting. It was not until the next day that paramedics were called, and he was taken to the hospital, where he stayed 8 days with a diagnosis of severe dehydration.
Upon discharge from the hospital he was returned to the long term care facility. Four days later, he fell from bed to the floor. He suffered severe and comminuted fractures of his leg at multiple levels. Since he was not a candidate for surgery, he had to endure a lot of pain until the fractures healed. He left the long term care facility after that incident and never returned.
Listen in as Pat Iyer chats about these points
The concepts Pat got out of looking at the defense of this case
Why long term care has an image problem.
How low staffing breeds low staffing
Why falls and fall-related injuries are a common liability concern in long term care

Do you want to sharpen your skills in understanding long term care litigation and liability issues?
Are you a legal nurse consultant who has not worked in long term care, but yet needs to assist attorneys with nursing home litigation?
Are you a nursing home expert witness who wants to broaden your knowledge?
My online training called Hot Spots in Nursing Home Litigation takes you into the world of nursing homes where documentation requirements, staffing, and regulations are markedly different from hospital ones. Learn from Barbara Johanson, an experienced nursing home expert witness, about the special regulations that govern nursing home care. You will become familiar with the standard of care and best practices so that you may be better able to evaluate liability, damages and defenses for three hot spots in nursing home litigation:
Pressure sores
Dehydration/weight loss
Accidents and incidents
Order this online training at http://LNC.tips/NHLitigation and use the code Listened to get a 25% discount. Let's return to the show.

Your Presenter
Pat Iyer has been a legal nurse consultant since 1987 when she first began reviewing cases as an expert witness. She achieved national prominence through her texts and many contributions to the legal nurse consulting field. She was the editor of Nursing Home Litigation: Investigation and Case Preparation, a book that sold well and helped many attorneys litigate nursing home cases.