Podcast: Play in new window | Download
Subscribe: Apple Podcasts | Android | Email | Google Podcasts | Stitcher | RSS | https://podcast.legalnursebusiness.com/subscribe-to-podcast/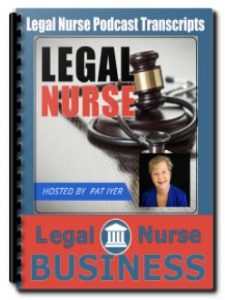 Are you using video marketing for your legal nurse consulting business? What is holding you back if you aren't?
In this show Pat Iyer gives you tips for planning and producing videos for your LNC business. We encourage you to sign up, if you have not already done so, to receive the transcripts of these shows. If you prefer to read information rather than listen to it, the transcripts are for you. If you want to refer back to information you heard, the transcripts are for you.
And in this show, Pat has links to examples of different types of videos she has done to promote her LNC business. You can use these as models. The links are only in the transcripts.
You can sign up for the transcripts at http://LNC.tips/subscribepodcast.
Listen in as Pat Iyer chats about these points
How to plan and pick the format for your video
Links you can use right away to find equipment or learn more
7 different types of videos
The types of equipment you need
19 great filming tips, what to wear and more!

I'd like to share a great resource for increasing your comfort with video marketing. In Smart Video Marketing, which is a 90-minute online training you will discover
The #1 mistake video marketers make and how you can avoid it.
The 5 Myths of YouTube Success
How to create a video without a camera
This program is taught by Lynn Ruby, who has 25 years marketing experience for small business owners and a lifetime of live and recorded performances on stage. Lynn Ruby, a leading authority on marketing and video marketing, is the founder of RubyMarketingSystems.com.
Be sure to get this 90-minute online training at http://LNC.tips/smartvideo. Save 25% with the code listened.

Your Presenter
Pat Iyer has been a legal nurse consultant since 1987 when she first began reviewing cases as an expert witness. She achieved national prominence through her texts and many contributions to the legal nurse consulting field. She built a large LNC business that benefited from more than 80% of her clients being repeat business.