Podcast: Play in new window | Download
Subscribe: Apple Podcasts | Google Podcasts | Stitcher | Email | RSS | https://podcast.legalnursebusiness.com/subscribe-to-podcast/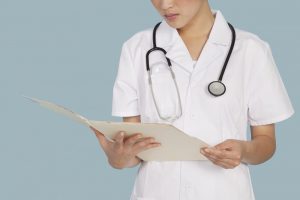 What are the 4 most common medical record analysis barriers you will encounter as a legal nurse consultant?  Attorneys count on your detail-oriented ability to analyze medical records.
Medical record analysis can be challenging enough without the barriers I described in this podcast. Communicate with the attorney when you run into these issues, so you can get the best records for your analysis.
Listen in as Pat Iyer chats about these points
Why there are disorganized  and missing medical records
How illegible handwriting and suspicious charting complicates medical record analysis
Tips to make the job of organizing medical records go more smoothly
Steps to consistently handle medical records the same way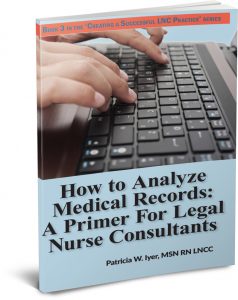 This book, "How to Analyze Medical Records: A Primer for Legal Nurse Consultants" the 3rd in the series Creating a Successful LNC Practice, covers the pros and cons of electronic medical records, including how they introduce risk into the documentation of patient care.
Use it to discover tips and techniques for organizing paper and electronic medical records, which are the backbone of our business.
You will gain an understanding of how to screen a medical malpractice case for merit and discover clues for detecting tampering with medical records.
Two final chapters focus on how to polish your work product to create your strongest professional appearance. You will gain critical insights on how to strengthen your ability to analyze medical records – to gain more clients and earn more money.
Order this book at http://Lnc.tips/creatingseries and use the code Listened for a 25% discount on the price

Your Presenter
Pat Iyer has been a legal nurse consultant since 1987 when she first began reviewing cases as an expert witness. She achieved national prominence through her texts and many contributions to the legal nurse consulting field.