Podcast: Play in new window | Download
Subscribe: Apple Podcasts | Android | Email | Google Podcasts | Stitcher | RSS | https://podcast.legalnursebusiness.com/subscribe-to-podcast/
Bonnie O'Hara understands anesthesia risks. She a nurse anesthetist and she has a long history of providing anesthesia in ORs as part of being in the military. Bonnie is currently working as a legal nurse consultant building her business and coaching with me in LNC Academy.
Bonnie has military and civilian nursing experience. She was also on active duty in the Army and taught graduate anesthesia students. Bonnie is on the show to talk about an issue that affects a lot of people and some of the risks associated with anesthesia.
Listen in as Pat Iyer and Debbie Bonnie O'Hara chat about these points
What does ASA stand for, also the different ASA statuses
The concern that a patient could wake up in the middle of an operation and the medical term for that
What a nurse anesthetist might do to try to avoid awareness under anesthesia?
Stories when a patient said, "I remember part of what happened in the operating room"
What is the incidence of people who aspirate during surgery?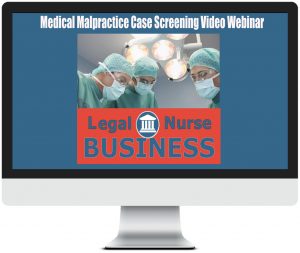 I have a 90-minute online training for you called Medical Malpractice LNC Case Screening. This program is ideal for legal nurse consultants and medical expert witnesses. In this 90-minute program, you will learn:
Learn how to establish the standard of care
Understand how to identify theories of liability
The key elements of effective case screening
Spot case winners and losers
Avoid pitfalls of medical record analysis
Join us for 90 minutes as I teach this program as an experienced legal nurse consultant and expert witness with Barbara Levin, also an experienced LNC and expert.
You'll hear about our most memorable cases and what lessons you may learn from them. Get the critical details about screening a medical malpractice case by investing a program specific to screening medical malpractice cases.
Go to this link: http://LNC.tips/screening and use the code Listened to get a 25% discount on the program.
Your Presenter
Bonnie O'Hara, JD, MSN, RN is the president of MedAnalysis Legal Nurse Consulting. Bonnie has over 30 years of nursing experience, 20 years as a certified registered nurse anesthetist (CRNA). She delivered anesthesia in the operating room, performed obstetric anesthesia, and worked in an endoscopy center.
Bonnie has Master's Degree in Nursing which included graduate courses in anatomy, physiology, pathophysiology, and pharmacology.
Because of her education and experience, she is uniquely qualified to interpret, understand, and summarize medical records.